Maine Lease Agreement with eSign
Now with eSign. Given Maine's landlord-tenant laws, it's critical Maine landlords use a Maine lease agreement, which we provide including law tips as you go.
Document Last Modified: 10/4/2017
Document Features
Uses Lease Builder
State-Specific
Esign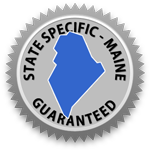 This rental agreement includes all terms that are required to meet Maine's Landlord Tenant laws. It has also been written with professional, legal language that is designed to minimize the landlord's exposure in the event of litigation.
Each section of the lease includes tips and guidance. The green, Maine Assist text boxes guide you in properly applying the law. For instance, Maine landlords may not require a security deposit amount that is greater than the equivalent of two month's rent.
Moving through the lease sections, you may select terms from lists of options, or you may type in your own terms. It is an easy, interactive template, meaning that as the landlord or property manager selects options, the lease will add or remove subsequent phrases. Once you've built your basic contract, you can choose from dozens of additional addenda that expand on rules, so that your full expectations for your rental will be clear.
MAINE LEASE FEATURES
All language required by Maine
Custom clauses
Help provided with green, Maine Assist boxes
Options to add your own clauses
eSign, email or print lease
MAINE LEASE PACKAGE DOCUMENTS The Maine lease package includes all required forms. Among the many optional forms are these examples:
RULES & REGULATIONS

Select from multiple options to keep your rental protected and your tenant clear about your expectations. For instance:

Tenant must obtain written permission to install a satellite system or antenna.
Stove, oven and range may not used as heating.
All windows and doors must remain closed during inclement weather.
Tenant will test and maintain carbon monoxide detector(s), and will report any malfunctions to the landlord.
Tenant responsible for removing snow, ice from stairs and walkways.
Late fees are strictly enforced and any unpaid fees will not be waived.
Charcoal and gas grills may not be used or stored on any common areas, balconies, decks, patios, porches, and/or landings or entranceways.
No hazardous materials are permitted in or around leased premises at any time.
Why ezLandlordForms?
#1 Rated Lease Agreement
9.3 TrustPilot Rating, with 3,384 Reviews
No Recurring Billing
No automatic charges or monthly billing
State Assist
So you know you're complying with state laws
Full Support
Phone, live chat, or email... try us now!
Unlimited Access
Edit & print any of our forms with pro access
Satisfaction Guarantee
Trusted by over 2.3 million landlords & property managers