Missouri Lease Agreement with eSign
Now with eSign. This Missouri lease agreement complies with all MO rental regulations and guides you through them as you create your MO lease.
Document Last Modified: 9/21/2017
Document Features
Uses Lease Builder
State-Specific
Esign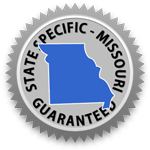 Landlords and property managers must follow Missouri's Landlord Tenant laws when creating a lease agreement. Our Lease Builder provides comprehensive legal guidance designed to keep the agreement between you and your tenant compliant with those laws. And, the Lease Builder is continually updated with new information as laws are changed in Missouri.
In addition, this document also meets lease requirements for the cities of Kansas City and St. Louis. What's more, relevant disclosures, addenda and information documents may be included in the Missouri lease package with a simple click. This ensures that your contract and all addenda are presented in one comprehensive document. Creating the lease is simple and intuitive. The Lease Builder takes you through seven steps.
MISSOURI LEASE FEATURES
Rental agreement terms that Missouri requires
Clauses that the landlord may customize
Options to include unlimited, additional clauses
Help provided with green, Missouri Assist boxes
eSign, email or print lease
MISSOURI LEASE PACKAGE DOCUMENTS
Below are just some of the additional legal forms available to include with your MO lease package:
RULES & REGULATIONS
Optional rules for your Missouri lease package include these samples:
Late fees are strictly enforced and any unpaid fees will not be waived.
Absolutely no smoking is permitted in the leased premises.
Tenant shall abide by all rules and regulations mandated by any governing Condominium Association or Homeowners Association.
The tenant may not use windows, decks, or balconies for the purpose of drying laundry.
Absolutely no hazardous materials are permitted to be in or around the leased premises at any time.
Tenant must report any malfunction with smoke detectors immediately.
Tenant agrees not to remove, dismantle or take any action to interfere with the operation of any smoke detectors installed on the leased premises.
Why ezLandlordForms?
#1 Rated Lease Agreement
9.3 TrustPilot Rating, with 3,384 Reviews
No Recurring Billing
No automatic charges or monthly billing
State Assist
So you know you're complying with state laws
Full Support
Phone, live chat, or email... try us now!
Unlimited Access
Edit & print any of our forms with pro access
Satisfaction Guarantee
Trusted by over 2.3 million landlords & property managers