New York Lease Agreement with eSign
Now with eSign. This Do-It-Yourself New York lease agreement offers guidance of New York law and allows you the option to include additional NYC or Buffalo disclosures.
Document Last Modified: 10/25/2017
Document Features
Uses Lease Builder
State-Specific
Esign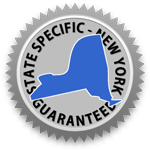 Our New York-specific lease agreement addresses the state's complex Landlord Tenant laws by automatically attaching such required documents as the New York Sprinkler Disclosure, as well as the federally-required Lead-Based Paint Disclosure and Certification for older homes, among others.
To further help New York landlords weed through all the regulations, our New York Assist, information text boxes will guide you in applying state lease laws as you create your form. Not only are necessary clauses and addenda language included, a variety of optional addenda and disclosures may be selected. In addition, this document also meets lease requirements for the city of New York.
All default lease text has been written specifically to protect the landlord in the case of litigation, by anticipating and addressing common scenarios.
New York City: In addition to ensuring that New York state requirements are met, New York City rules also are incorporated into this form. Among others, the required Window Guard notice and Rent Stabilization rider are easily attached to New York leases.
NEW YORK LEASE FEATURES
Instant answers to state-related lease rules via New York Assist
Required New York terms
Quickly include addenda by checking a box
Customize existing addenda or completely create your own
Execute the lease with eSign, email lease or print lease
NEW YORK LEASE PACKAGE DOCUMENTS
Select a few or include all of the optional addenda. Use the current wording or customize them to your specifications. There are dozens, but here are a few:
RULES AND REGULATIONS
Our New York lease rules and regulations options are the perfect alternative to a full addenda. They allow you to set terms on common leasing issues by checking a box or by adding your own, brief description. Examples:
Tenant may not use windows, decks or balconies for drying laundry.
Landlord does not permit loud gatherings.
Water beds and liquid furniture are not permitted without landlord's written permission.
Tenant shall notify landlord of any pest control problems.
Related Articles
How to Legally Lease Using Airbnb in NY, When 72% of Rentals Are Illegal
View Article >
New York Landlord Tenant Law and Regulations
View Article >
Why ezLandlordForms?
#1 Rated Lease Agreement
9.3 TrustPilot Rating, with 3,384 Reviews
No Recurring Billing
No automatic charges or monthly billing
State Assist
So you know you're complying with state laws
Full Support
Phone, live chat, or email... try us now!
Unlimited Access
Edit & print any of our forms with pro access
Satisfaction Guarantee
Trusted by over 2.3 million landlords & property managers