Maryland Lease Agreement with eSign
Now with eSign. Get started creating a Maryland lease agreement here, and we will guide you through MD landlord laws as you create your rental contract.
Document Last Modified: 5/5/2017
Document Features
Uses Lease Builder
State-Specific
Esign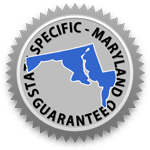 Our Maryland lease agreement meets the state's Landlord Tenant laws. As you go through steps in our Lease Builder program, you will be prompted to check options and add information that will appear in the final document.
In lease sections that require you to apply Maryland Landlord Tenant law in a specific manner, you will see green, Maryland Assist text boxes that contain important information to guide you. In addition, this document also meets lease requirements for the city of Baltimore. This lease form also includes many optional sections that may be customized to address situations at individual rental properties.
MARYLAND LEASE FEATURES
Lease language that meets Maryland Landlord Tenant law
Clauses you may customize
Guidance with Maryland Assist
Options to individualize rules and regulations
eSign, email or print lease
LEASE PACKAGE DOCUMENTS
Among dozens of addenda, disclosures and information documents that may be attached to the Maryland lease, we offer these:
Move-In/Move-Out Condition Checklist
Smoke-Free Property Agreement
Pet Addendum
Lease Cosigner Agreement
RULES AND REGULATIONS
These are examples of the numerous rules and regulations that may be included in your lease agreement:
The Tenant agrees not to use the Leased Premises for any unlawful purpose including but not limited to the sale, use or possession of illegal drugs on or around the Leased Premises.
The Tenant agrees to test carbon monoxide detector(s) periodically as well as maintain operational batteries at all times. The Tenant must report immediately to the Landlord any malfunction with carbon monoxide detector(s).
The Tenant must obtain written permission to install a satellite system or antenna on or around the Leased Premises.
The Tenant shall abide by all rules mandated by Condominium or Homeowners associations.
Related Articles
Baltimore City Carbon Monoxide Detector Requirements
View Article >
Maryland Landlord Tenant Law and Regulations
View Article >
Why EZ Landlord Forms?
#1 Rated Lease Agreement
9.3 TrustPilot Rating, with 3,384 Reviews
No Recurring Billing
No automatic charges or monthly billing
State Assist
So you know you're complying with state laws
Full Support
Phone, live chat, or email... try us now!
Unlimited Access
Edit &ump print any of our forms with pro access
Satisfaction Guarantee
Trusted by over 2.3 million landlords & property managers