New Hampshire Lease Agreement with eSign
Now with eSign. Like all states, New Hampshire has unique leasing laws; our NH lease wizard summarizes laws as you create a New Hampshire rental agreement.
Document Last Modified: 9/4/2017
Document Features
Uses Lease Builder
State-Specific
Esign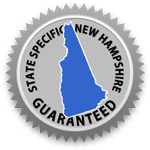 This New Hampshire Lease Agreement meets the state's Landlord Tenant laws. It is easy to create using our Lease Builder Wizard, and the resulting document is a professional and legal instrument designed to protect your investment.
The Lease Builder provides information on how to correctly apply the state's rules on rentals, and also offers options on terms and rules that suit individual landlord specifications. Basic document terms, selected by our attorneys in order to minimize the landlord's legal exposure, are automatically included in the finished lease. In addition, there are multiple, optional rules and terms; these may be chosen to further strengthen your lease and minimize any confusion over landlord and tenant responsibilities.
Move through the seven-step process, making selections on rent, deposit, fees and more. Customize clauses or addenda as needed. The lease may be downloaded for review at any step in the process. It may be executed online using our electronic signature service.
NEW HAMPSHIRE LEASE FEATURES
eSign, email or print lease
Language that is required by the state of New Hampshire
Custom clauses
Help provided with green, New Hampshire Assist boxes
Options to add your own clauses
NEW HAMPSHIRE LEASE PACKAGE DOCUMENTS
See some of the many official documents available with the NH lease:
RULES & REGULATIONS

These are among the numerous rules and regulations that may be added by simply checking a box:

Landlord does not permit loud gatherings
Tenant agrees to test and maintain smoke detector(s).
Tenant shall notify landlord of any pest control problems.
Garbage/trash must be taken to the curb on the required days.
Tenant may not misuse, dismantle, block or remove fire extinguisher(s).
No hazardous materials permitted in or around leased premises at any time.
Written permission to install a satellite system must be obtained for the rental unit.
Related Articles
New Hampshire Landlord Tenant Law and Regulations
View Article >
Why EZ Landlord Forms?
#1 Rated Lease Agreement
9.3 TrustPilot Rating, with 3,384 Reviews
No Recurring Billing
No automatic charges or monthly billing
State Assist
So you know you're complying with state laws
Full Support
Phone, live chat, or email... try us now!
Unlimited Access
Edit &ump print any of our forms with pro access
Satisfaction Guarantee
Trusted by over 2.3 million landlords & property managers