Minnesota Lease Agreement with eSign
Now with eSign. This Minnesota Lease Agreement is specifically designed to include all of the special laws, regulations and clauses required in Minnesota.
Document Last Modified: 10/4/2017
Document Features
Uses Lease Builder
State-Specific
Esign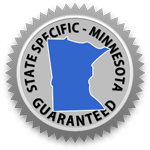 Compliance with Landlord Tenant laws is essential for successful investment property management. Minnesota has its own, comprehensive, Landlord Tenant laws that govern rental situations and lease agreements. For instance, Minnesota law limits the amount that a landlord may charge for a late rent payment fee; and, the law states that the fee can only be charged if it is explained, in advance, in the lease agreement.
Our state-specific lease agreement provides guidance on those laws through Minnesota Assist instructions - green text boxes that appear throughout the Lease Builder. The Minnesota Assists give explanations of rules, and they supply guidance so that you apply the rules properly as you build your document. This lease also complies with the Landlord Tenant laws in the city of St. Paul.
The Minnesota lease package automatically includes the addenda and disclosures which are required by law; but, you can also include unlimited addenda that address your own personal preferences for your rental property.
Clauses may be selected with a simple click on a box. However, clauses are also customizable, meaning that if you have special wishes that you want the tenant to follow, you can key your own words into blank fields in the lease form.
MINNESOTA LEASE FEATURES
Lease terms that Minnesota requires
Clauses that can be customized for individual landlord needs
Help provided with green, Minnesota Assist boxes
Options to add extra terms and rules
eSign, email or print lease
MINNESOTA LEASE PACKAGE DOCUMENTS
Below are some of the required and optional addenda and disclosures that are included:
RULES & REGULATIONS
Here are just a few of the restrictions you can include in your lease by checking boxes in a prepared list:
The Tenant must obtain written permission to install a satellite system or antenna on or around the Leased Premises.
The Tenant may not interfere with the peaceful enjoyment of the neighbors.
Late fees are strictly enforced and any unpaid fees will not be waived.
Garbage/Trash must be taken to the curb on the scheduled days(s) of trash removal and not before.
Absolutely no smoking is permitted in the leased premises.
Why ezLandlordForms?
#1 Rated Lease Agreement
9.3 TrustPilot Rating, with 3,384 Reviews
No Recurring Billing
No automatic charges or monthly billing
State Assist
So you know you're complying with state laws
Full Support
Phone, live chat, or email... try us now!
Unlimited Access
Edit & print any of our forms with pro access
Satisfaction Guarantee
Trusted by over 2.3 million landlords & property managers