Kansas Lease Agreement with eSign
Now with eSign. Looking for a flexible Kansas lease agreement that adheres to Kansas landlord laws? Our KS rental contract informs you of KS laws as you go.
Document Last Modified: 8/3/2017
Document Features
Uses Lease Builder
State-Specific
Esign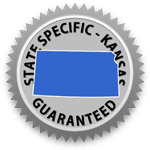 This form meets Kansas Landlord Tenant laws. State-required language is automatically included. When the landlord must make a choice between several options, the built in
Kansas Assist
instruction boxes provide helpful guidance.
For instance, Kansas rules on the permitted security deposit amount are different depending on the type of rental unit. The Kansas Assist provides simple tips and explanations, making it easy to correctly apply those rules. In addition, this document also meets lease requirements for the city of Wichita.
This professional rental package may be used by the owner, agent, or property manager. Legally-required terms are automatically included. But the Lease Builder also allows you to insert unlimited terms that meet your individual expectations. For example, you may check a box indicating that pets are allowed; and, you may also attach a Pet Addendum, in which you enter the exact number of permitted pets, any pet fees, and rules for pets who live in your rental.
The Lease Builder program responds to the landlord's selections, adding or removing fields, depending on those selections. This replaces traditional, blank forms, allowing for a fully customized document that may be repeatedly edited before the lease is executed. Additionally, you may add extra fields and insert one-of-a-kind rules as needed.
Access to unlimited addenda and disclosures ensures that your tenant is fully informed of the rules of your rental property. And the professional format meets industry guidelines for a rental contract.
KANSAS LEASE FEATURES
Language required by Kansas law
Clauses that may be left as is, or customized
Guidance from green Kansas Assist instruction boxes
Options to create and add unique clauses
eSign, email or print lease
KANSAS LEASE PACKAGE DOCUMENTS
Here is a selection of the many forms that may be included in the Kansas lease package:
RULES & REGULATIONS
One click adds any or all of the available rules and regulations. This is a sampling:
Tenant must maintain smoke & carbon monoxide detectors and report faulty devices.
Trampolines are prohibited.
Tenant must notify landlord of any change in employment.
Tenant shall immediately notify landlord of any pest control problems.
Tenant responsible for removing snow/ice from stairs and walkways.
Basement and attic may not be modified for use as living quarters.
Tenant must obtain landlord's written permission to install satellite system/antenna.
Related Articles
Kansas Landlord Tenant Law and Regulations
View Article >
Why EZ Landlord Forms?
#1 Rated Lease Agreement
9.3 TrustPilot Rating, with 3,384 Reviews
No Recurring Billing
No automatic charges or monthly billing
State Assist
So you know you're complying with state laws
Full Support
Phone, live chat, or email... try us now!
Unlimited Access
Edit &ump print any of our forms with pro access
Satisfaction Guarantee
Trusted by over 2.3 million landlords & property managers