Delaware Lease Agreement with eSign
Now with eSign. The First State enforces its own lease laws, so our DE lease wizard offers law tips as you build your Delaware rental agreement.
Document Last Modified: 10/25/2017
Document Features
Uses Lease Builder
State-Specific
Esign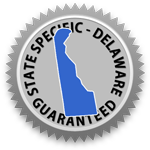 This Delaware-specific lease contract can be customized to address any special terms that you, the landlord or property manager, wish to add. However, the basic text already covers many common leasing issues; and our attorneys drafted the document using language designed to eliminate or minimize the landlord's liability in the event of legal action.
The seven-step process for creating this form can easily be completed in less than an hour, by following easy instructions in the Lease Builder Wizard. Most fields, such as the length of the rental term, are completed by choosing among several options. Our Delaware Assist offers instructions and tips at each step, so that you can be sure that your terms comply with the state's Landlord Tenant laws.
Finally, dozens of optional, supplemental documents are included with this basic contract, if desired. They may be selected by checking the appropriate boxes in the last step of the Lease Builder Wizard. In cases where a supplemental document may be customized, there is no need to retype names and dates, as our Autofill feature does that for you.
DELAWARE LEASE FEATURES
Complies with Delaware's code governing the Landlord Tenant relationship
Easy application of state rules with Delaware Assist Special clauses can be customized
Extra rules and terms as needed
eSign, email or print lease
DELAWARE LEASE PACKAGE DOCUMENTS
Included here are a few of the supplemental legal forms to add to your lease package:
DE Attorney General Summary of Laws – required with all new lease agreements
Optional lease packet cover page and table of contents

RULES AND REGULATIONS

View some of rules you can include by checking a box in Step 6 of the Lease Builder Wizard:

Absolutely no smoking.
Tenants required to obtain rental insurance.
Tenant must notify landlord of any change in employment.
Late fees are strictly enforced and any unpaid fees will not be waived.
Charcoal and gas grills may not be used or stored on any common areas.
Absolutely no hazardous materials are permitted in or around leased premises.
Tenant must immediately report smoke detector malfunction to landlord. Tenant agrees not to remove, dismantle or take any action to interfere with smoke detector operation.
Related Articles
Delaware Landlord Tenant Law and Regulations
View Article >
Why EZ Landlord Forms?
#1 Rated Lease Agreement
9.3 TrustPilot Rating, with 3,384 Reviews
No Recurring Billing
No automatic charges or monthly billing
State Assist
So you know you're complying with state laws
Full Support
Phone, live chat, or email... try us now!
Unlimited Access
Edit &ump print any of our forms with pro access
Satisfaction Guarantee
Trusted by over 2.3 million landlords & property managers