Wright Muir, P.A.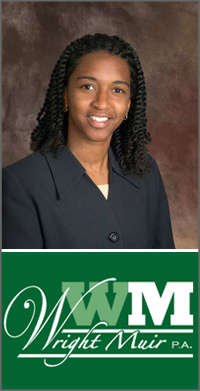 Address:
1580 Sawgrass Corporate Parkway, Suite 130
Sunrise, FL 33323
Get Directions >
Areas Served: Boulevard Gardens, Broadview Park, Browardale, Coconut Creek, Cooper City
Wright Muir, P.A. Law Firm Info
About Us
Ms. Muir values the professional relationships she maintains with her clients. She understands that the lawyer-client relationship is based on trust, respect and confidentiality. This lawyer-client relationship requires immediate attention to client concerns which is why Ms. Muir promptly makes and returns telephone calls and emails updating clients on the progress of their matters.
Practice Info
General Philosophy:
Involved, Interested, Dedicated and Competent
Memberships & Certifications:
Primary Practice:
General Practice
Sub-categories:
Fee Info
Fixed-Price Services and Fees:
Free initial consultation:
Hourly Rates:
Typical Retainer:
Attorneys
Ghenete Wright Muir, Esq.