Messenger & Overfield, P.C.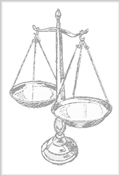 Address:
116 North 5th Street P.O. Box 111
Thermopolis, WY 82443
Get Directions >
Areas Served: East Thermopolis, Grass Creek, Hamilton Dome, Kirby, Lucerne
Messenger & Overfield, P.C. Law Firm Info
About Us
We offer individuals, businesses and municipalities the legal counsel they need in all residential and commercial real estate transactions. We draft buy-sell agreements, prepare deeds or bills for commercial properties, prepare disclosure statements, counsel regarding financing and assist with eminent domain cases. As the municipal attorneys for the city of Thermopolis we have extensive experience handling city and county government zoning matters. We leverage this experience to help clients with municipal zoning and land use planning matters in communities outside of Thermopolis.
Practice Info
General Philosophy:
Memberships & Certifications:
In Practice Since:
Primary Practice:
Sub-categories:
Fee Info
Fixed-Price Services and Fees:
Free initial consultation:
Hourly Rates:
Typical Retainer: